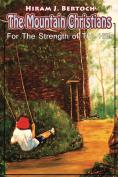 Ten year old James is amused by the Mormon preachers who visit his mountain homeland. A small community that lay protected from outsiders by towering Alpine mountains.
The strength of these mountains has allowed James' people to thrive for centuries in the face of terrible persecution from outsiders.
Now James' family faces a new and unexpected threat. One that many in the community fear will be more dangerous than anything that has come before.
Mormon Missionaries have come to their mountain.
Critics Agree:
Read the book that critics are calling ?Engaging,? ?Hard To Put Down,? ?A Fresh Perspective On An Old Genre.?
Based on a true story, ?The Mountain Christians? is the LDS Novel that explores a young man's difficulties in coming to terms with the faith of his fathers, his pastors, and the teachings of strange American preachers.
The Mountain Christians: By Hiram J. Bertoch is available online, or wherever LDS Books are sold.
Back of The Book Description:
James is only ten years old when the Mormon missionaries enter his beloved mountain homeland. A place where his family has lived since perhaps before the days of Christ and his apostles. Here they have practiced their religion free from outside interference for centuries.
How will James and his family respond to American preachers who bring news of a restored gospel to their Alpine farm?
A coming of age story, that follows ten year old James as he wrestles between the beliefs that his people have cherished for generations, and the new ideas being preached in their valleys.
Order Now!